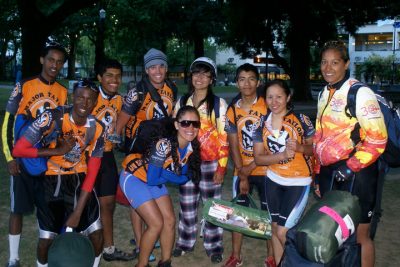 Age: 18
Occupation: waitress, IHOP
Hometown:  Sea-Tac
Commute: 15 miles from Federal Way to Renton
Wheels: Specialized Dolce
Esmeralda bikes to work whenever she can. But with a less-than-ideal commute along Pacific Highway, with a two-year old son (Ian) and without a bike trailer – it's not yet a daily routine.
"I ride my bike for lots of errands, like picking up groceries at Safeway. like the satisfaction of getting from point A to point B under my own power. If I don't have to borrow my brother-in-law's car, that's always better. I used to run a lot, but biking takes the stress off my knees."
"Sometimes I drop Ian off at my Mom's. If I drop Ian off at day care by bus, then I need to set aside a whole day to bike to work."
Esmeralda started biking with her boyfriend, Ramiro, in the Major Taylor Project at Global Connections High School, where she was a senior. Inspired by Esmeralda's brother, the couple wanted to ride from Seattle to Portland.
It had been ten years since Esmeralda last rode a bicycle. She received a Diamondback mountain bike for her participation in Major Taylor's 5-week earn-a-bike program.
Named after Marshall 'Major' Taylor, the turn-of-the-last-century African-American U.S. and world bicycle sprint champion, the Project introduces young people from diverse communities to the sport of cycling and creates a more inclusive culture of bicycling.
The Taylor Project currently runs four after-school bike clubs in low-income neighborhoods: Rainier Vista Boys and Girls Club, Global Connections High School in SeaTac, Sand Point Transitional Housing, and the YES Foundation of White Center.
Weekly road rides are offered at each of the clubs in the spring and fall. Students learn about crash avoidance, stretching, nutrition, visibility, and route planning.
The Taylor training rides started slowly in the fall: 5-10 miles per ride. By spring, the group of riders were spinning 2-3 hours twice per week. Esmeralda's first official event was Chilly Hilly. By June, the 45-mile Flying Wheels route was a breeze.
The training — combined with confidence, a Major Taylor jersey, and two new road bikes purchased the week of the event — inspired the couple to finish their first Group Health Seattle To Portland.
"I liked riding all of the big hills. I never got off my bike. And I finished by 6:00 each day." Next year, she plans to eat and drink more between the major food stops. She'll have to since she also plans to ride with Ian.
Of course, Esmeralda's plans could change. She scored well on the ASVAB (Armed Services Vocational Aptitude test) and has enlisted in the Navy. Based on her test scores, recruiters tell her she could pursue her dream career in technology. She prefers to stay close to her family in Federal Way, but she may have to move after Basic Training. "Then I can start saving for a house."
On August 18, by the waterfront in Redondo, Esmeralda and Ramiro were married.
Scott Marlow was marketing director for Cascade Bicycle Club from 2001-2005. The Club record-holder for the shortest commute (under six seconds), he provides website design and communication services from his home office in West Seattle.