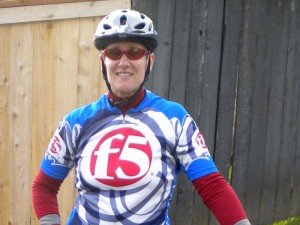 Age: 45
Occupation: Desktop Support Specialist, F5
Hometown: Buffalo, NY
Degree: Bachelor of Fine Arts, University of Buffalo
Commute: 12 miles round trip from Fremont to downtown Seattle
Wheels: Giant Trace X2, Kona Dew Drop, Pacific Reach travel, Rodriguez Stellar and S3
With 12 internal teams, F5 consistently leads the Group Health Commute Challenge. The cheerleader for 200 F5 bike commuters is four-time Team Captain Patty Kirkland.
During Bike Month, F5's Bagel Fridays are incentive for some employees to commute by bike; and the free F5 cycling jersey issued to Team participants also inspires many new bicycle commuters. But it was the company's stipend ($1,200 to $3,600 per year) that motivated Patty to leave her car behind.
"It's fun. I look forward to getting up in the morning. I don't have to deal with traffic. I see the sunrise. I get a workout. And, on the way home, I enjoy a tour of neighborhoods."
F5 treats cyclists generously – furnishing lockers, showers, and secure, attended, and covered bike parking. Towel service is even available. An internal cycling email list connects dozens of cyclists with experienced peers who answer questions about gear, routes, and training.
Employees may opt to use a pre-tax spending account to fund sustainable transportation options like train, bus, and ferry fares. And, if an employee needs emergency transportation home when using alternative transportation, F5 will pay for it—part of F5's Home Free program.
Patty started bike commuting ten years ago. With five bikes at home, Patty could commute on a different frame daily. Instead, she rides her Kona Dew Drop six miles from Fremont through Fisherman's Terminal to Magnolia. Rain or shine, her favorite accessory is a pair of orange waterproof Ortlieb panniers.
After participating in Cascade's Bike Business Forum in 2009, Patty and fellow F5 employee Craig Hovey developed a 1.5-hour Commute 101 class. The brown-bag lunch discusses safe biking practices, routes, and rules of the road. Then, bike buddies are coordinated for employees still nervous about cycling on the road.
At the end of the Commute Challenge, F5 recognizes its teams with the most mileage, the most trips, and the most new commuters.
Bike commuting is not just practical and fun; for Patty, it also helps her maintain a solid fitness base for competing in triathlons. Not just sprint distance events, but Half-Ironmans: a 1.2-mile swim, a 56-mile bike ride, and a 13-mile run.
Riding a super lightweight Rodgriguez S3, Patty has completed the Grand Columbian Tri, and Barb's Race — the only all-women's Half-Ironman triathlon in the world – raising money to support women facing a cancer diagnosis.
As a four-time Danskin Triathlon finisher, Patty also added Head Mentor to her accomplishments. Last summer, Patty worked with 39 other Seattle mentors who coach groups of 25-30 participants. They provided group training, bike safety and transition clinics throughout the tri season. Patty likes the Danskin Tri because it encourages participation by women of all shapes, sizes, and abilities.
For anyone interested in attempting their first triathlon, Patty recommends joining a team, and doing one leg of the race. Otherwise, if you want to compete solo, you'll need to train on your weakest activity, which for Patty was running.
Patty joined Cascade Bicycle Club so she could register early for events – particularly her favorite, RSVP. "I like that my membership supports advocacy and local community building for bicyclists."
In her spare time, Patty enjoys riding her Rodriguez women's-specific Stellar around the Olympic Peninsula's rural, quiet roads – like the North Shore near Hood Canal. "The roads are well-signed and drivers are considerate. Mason County is really under-utilized by cyclists and the riding is gorgeous."
"I also find lots of mountain bike opportunities at www.kitsapmtb.com. Banner Forest in Port Orchard is a great destination with fun trails and obstacles, and moderate elevation. And you can ride to the trails from the Southworth ferry."
This July, Patty competes in the U.S. Women's Triathlon Series in Federal Way to benefit Ovarian cancer research. She also looks forward to a self-guided bike tour of County Kerry, where she'll practice her Irish jig (just for fun, of course).
Learn more about the US women's triathlon series, Barb's Race, and the Grand Columbian Tri. To learn more about best practices for bike commuting in your workplace, contact John Mauro about the Bike Business Forum.
Scott Marlow was marketing director for Cascade Bicycle Club from 2001-2005. The Club record-holder for the shortest commute (under six seconds), Marlow works from his home office in West Seattle. Nominate a cyclist of the month!