By: Brandon Sisino, Sisino Photography 
Youtube vs. Vimeo
When would I choose YouTube? When I'm looking for my work to be part of the second largest search engine (YouTube.com) and I need more control over the delivery/sharing options of my video. If neither of these items trigger any additional questions, I'd probably just go for the YouTube platform.
Control Where Your Videos Are Embedded
Vimeo's Basic Plan ($8 a month at the time of writing) includes the ability to control which domain your video is embedded, basic analytics (which you also get with YouTube) about your video and the ability to customize your video player. All "basic" items that YouTube can compete with. However the basic plan can help you deliver an experience on your website that isn't so cookie cutter looking as other sites. Use the basic analytics to make decisions about improving your content. By controlling the domain(s) where your video is allowed to be hosted, you'll have some peace of mind a random blogger hasn't embedded your video on their own site.
Transferring Large Video Files
File transfers. The Basic plan also includes the ability to share video and allow someone to download the original file. For my workflow it's nice to know I can upload at 4k and the client's download will be in 4k. This one feature alone could be worth the decision to start with Vimeo.
Speaking of transferring files. Save yourself from having to upload multiple files if you want to share on YouTube or Facebook. Publish directly from your Vimeo video page with consolidated analytics.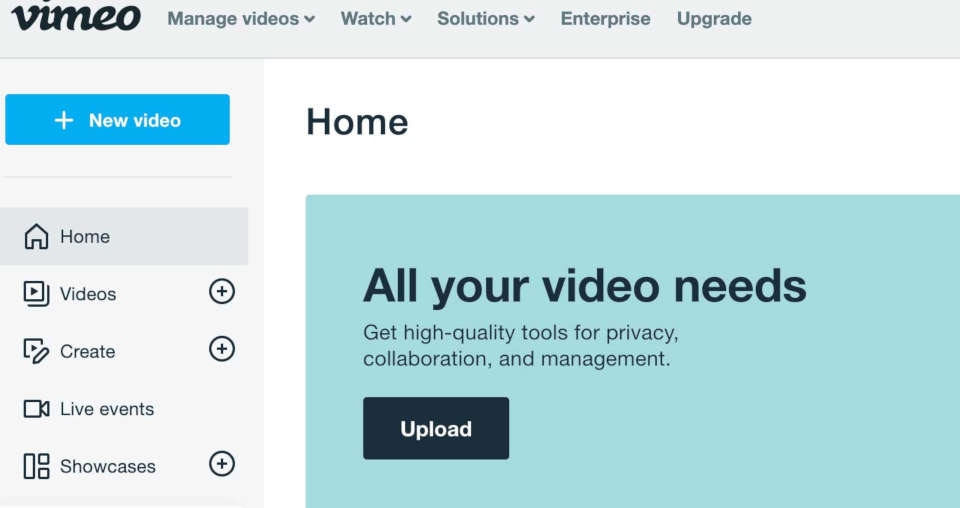 Working With Teams and Priority Support
If your business relies heavily on video, the Basic plan probably doesn't offer enough benefits to improve your workflow. Stepping up to the Pro Plan ($20 a month at the time of this writing) offers more features. From creating team projects, sending review links so a client can add comments to the video, customizable options for the embedded player, and priority support. I'm all for free or cheap platforms – but if I'm working on something for a client or my own business I don't want to spend my own time reading through knowledge base articles or random help pages to fix a problem.
Since I've mentioned the upgraded plan, I'll also point out if you want to sell your videos online, you'll need to sign up for at least the Pro Plan.
No Advertising
With online advertising finding its way into everywhere we look, Vimeo has promised:
"Your work will never be tarnished by in-video ads. That's right — no pre-roll, post-roll, or overlays. On Vimeo, you can present your work in exactly the way you want."
That is a pretty bold statement but if you're a business trying to tell a brand story or sell a service/product the last you want is for a potential client/customer to have to see an advertisement for something else. I look at it like this – maybe you've paid for Adwords so a prospective customer make it to your website, which you also probably paid for; you've developed an attractive, user friendly page that has the viewer interested; and now the first thing they see is an ad delivered through your Youtube channel for a product that has nothing to do with your business. Grrr.
Vimeo Is For Professionals
Consider the user base by platform. Vimeo has traditionally been made up of professional video/cinema creators. Youtube has become more of a collective space for internet culture. If you are trying to deliver a professional message it may align better by being hosting on a more professional-oriented platform.
With the upgraded plans as a business you can also add email capture and calls-to-action at the end of a video to encourage your viewer to follow on social, shop now or visit another website page to learn more.
If you're a freelancer on an upgraded account you can even mark your account as "for hire" to help generate new business opportunities.
More recently Vimeo has launched "Create" which allows users to create social friendly videos from your existing content (check with your photo/video creator to ensure you can repurpose content without voiding any licence agreements).
There is always Youtube
Of course, there is still YouTube. It's free to use and it does offer some content distribution tools if they fit your needs. As I mentioned prior it has much higher viewership and is a great way to increase your search ability on the web. It may make sense to create a YouTube edit and an edit that will be hosted on your website.
If you've ever noticed at the end of a video you've watched on YouTube a list of suggested videos will pop up at the conclusion of the video. Often they are not related to your own brand. One way to help avoid this is to ensure your videos on YouTube are part of a custom playlist. This can help ensure the next video is one of your own or at least something you recommend/endorse.
Brandon is a Freelancer based in Seattle, WA. He spent a year creating photo and video content for the online mountain bike school www.snamtb.com (all hosted on Vimeo Pro Account) and currently runs his own photography business. 
Questions? Comments? Email: brandon@sisinophotography.com