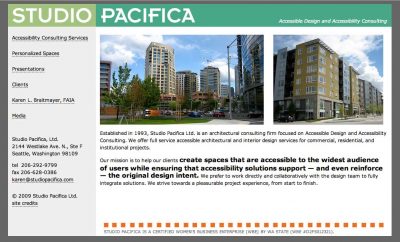 XHTML/CSS Development: Scott Marlow
Graphic Design: Kelly Davis, Farm Girl Works
Karen L. Braitmayer, FAIA, needed a website to promote her accessible design consulting. The site needed to be accessible by assistive devices, so WAI/508 guidelines had to be considered.
The new site is 100% CSS, and displays in assistive devices. Unlike table-based web designs, CSS web sites are adaptive to a  wider range of web browsers.