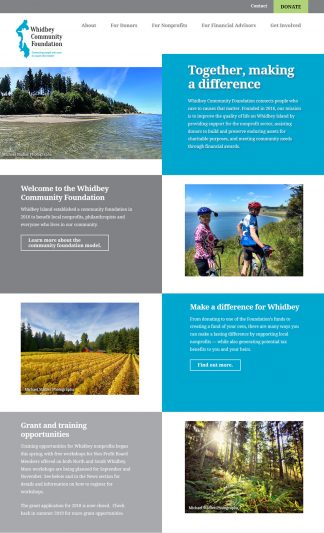 Client: Whidbey Community Foundation
Scope of Work
Content strategy
Custom Photography
Front-End web development
Performance optimization
Security hardening
Visual design
Team: David Owen Hastings, Michael Stadler Photographs, Moore Ink, Scott Marlow
Whidbey Community Foundation, founded in 2016, is a grantmaking public charity that supports Whidbey Island nonprofit organizations through philanthropy, training and capacity building.
More than 750 community foundations operate in urban and rural areas in every state in the United States.
The new community foundation website, powered by WordPress, allows the organization to easily share fundraising, training and other news. A third-party portal by Community Suite provides additional tools for nonprofit listings and donations.
Performance Metrics
Performance
WordPress Site
Benchmark
Google Mobile Speed:
71
Google Desktop Speed
86
Pingdom
90
faster than 86% of tested sites
WebPageTest Speed Index
1,440
median = ~4,493
top 10% = <1,388
YSlow
82
average score = 70
Web Page Size
526 Kb
In 2017, average page size = ~2.4 Mb
median page size = ~1.9 Mb
Web Server Requests
28
< 40 – 60 recommended