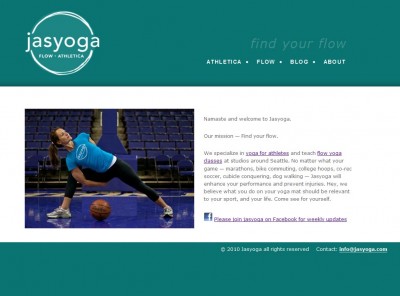 Graphic Design: Anna Goldstein
Photography: Nate Burgher
WordPress theme development: Scott Marlow
Twenty Ten, the default theme for WordPress, has been downloaded over 320,000 times since last spring. Can you imagine promoting your services with a website that looked identical to a quarter million other sites? Neither can Erin Jasmine Taylor, owner and instructor of jasyoga – yoga for athletes.
So, fueled by Mighty O organic donuts, I baked the 2010 theme to match her existing brand identity.
I love Twenty Ten, almost as much as chocolate raspberry cake donuts. Each has been thoroughly tested and approved. And, for most small businesses, Twenty Ten includes 95% of the ingredients — and none of the fat — needed in a Content Management System. Plus, I can frost it over a hundred thousand different ways.
Most of my custom WordPress sites use Twenty Ten as the main ingredient. No adware. No black hat SEO. Just 100% pure CSS. Contact me for a taste of Twenty Ten.
As part of my ongoing investment in www.jasyoga.com I need the site to continually evolve in a thoughtful and efficient way. Scott offered the guidance I needed to take things to the next level, moved the project along seamlessly, and continues to advise site maintenance and development. I love my site and blog. I will continue to work with him on this and other projects and recommend him to all my clients.
Erin Taylor, jasyoga
Icing on the cake: ask Erin about her copywriting services.