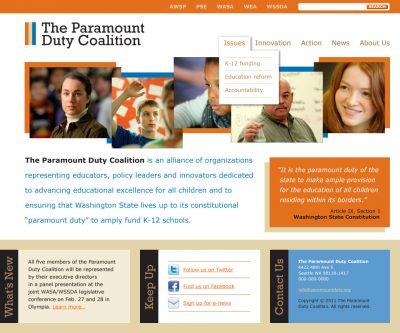 Copywriting: Teresa Moore
Graphic & logo design: David Owen Hastings
WordPress theme development: Scott Marlow
A marketing collaboration for educational collaborators at Paramount Duty Coalition.
Three marketing consultants combined expertise to launch an online resource for the Paramount Duty Coalition. The five-member Coalition includes Association of Washington School Principals (AWSP), Public School Employees of Washington (PSE), Washington Association of School Administrators (WASA), Washington Education Association (WEA), and Washington State School Directors' Association (WSSDA). Together, these  organizations represent 115,000 teachers, support staff, principals, superintendents and school board members. Their mission: to improve the K-12 public education system.
Why? Because the Washington State Constitution states: "It is the paramount duty of the state to make ample provision for the education of all children residing within its borders."
Responsibly, the Coalition chose an open source solution for its Content Management System. WordPress, of course.
Working with Scott and David on the Paramount Duty Coalition site was an outstanding partnership experience. David's lovely, professional design combined with Scott's technical expertise made it a dream project. I look forward to our next joint venture.
Teresa Moore
Moore Ink. PR & Fundraising Communications