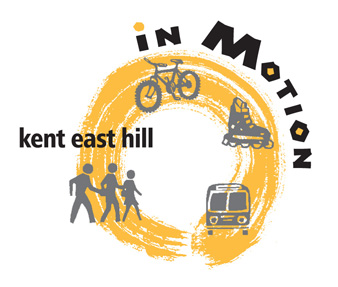 Team Lead: Susanna Tull Communications Consulting
Graphic Design: Peg Ogle
Communications & Social Media Consulting: Scott Marlow
Community Outreach, Market Research & Evaluation: Tiffany Crosby
Field Marketing: Mark Tull
Administration: Yukari Bettencourt
Last February, King County Metro hired our consulting team to implement In Motion, a community-based social marketing program to promote sustainable transportation. Following its three-step transportation demand management (TDM) model, the In Motion program encouraged residents of Kent (Washington's sixth largest city) to reduce their drive-alone car trips over a 20-week period.
Highlights from Kent East Hill In Motion:
7% of households responded
190 participants (78%) pledged to reduce at least two drive alone trips per week; and 61% of those who pledged reported reducing their drive alone trips.
Over the 20-week program period, participants:
Reduced: 4,595 drive-alone trips
Saved: 105,443 miles; 5,272 gallons of gas; and 102,280 lbs of CO2
90% of survey respondents report that they plan to continue their new drive-less travel patterns
After conducting market research, our team developed a communications plan targeting 3,500 households in a 1.5 square mile area. The plan included translation services provided for Spanish residents by the Lucy Lopez Center, and for Russian residents by the Refugee Women's Alliance (ReWA); as well as a new Google widget that translated  online materials into 56 languages. We also worked with King County Metro to implement its first pilot In Motion Facebook Fan Page.
Incentives and rewards encouraged participants to pledge, continue their new travel behavior, and provide trip and other data to measure program results. Diamondback Bicycles, a Kent-based bicycle manufacturer, provided a mountain bike as a grand prize; other prizes and rewards included $5-$100 local merchant gift cards.