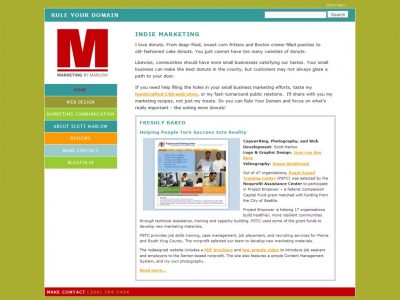 Graphic Design: Beegee Tolpa
Copywriting, WordPress XHTML/CSS Development: Scott Marlow
PHP mods: IvyCat
Yes, I love donuts. After five years, my static HTML site was stale. So for the fifth anniversary of Marketing By Marlow, I cooked up some new content and baked everything into a new WordPress site.
The site incorporates my new tagline, and features an integrated look-and-feel, a client login, and more dynamic elements. Photos of freshly baked goods to follow.
Special thanks to the following plugin developers: Automattic, Michael Tolbert, Michael Wohrer, Steve Atty, Delicous Days' Oliver Seidel, and unaligned code.