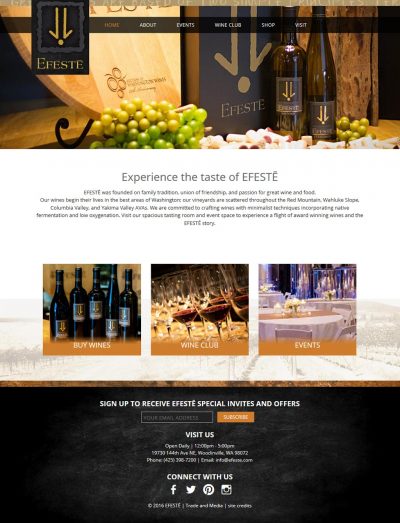 Graphic Design: Joan van den Berg
Mobile Responsive Web Development: Scott Marlow
This web redesign project for EFESTĒ winery involved migrating site content from a static, fixed width WordPress site and a separate mobile responsive blog into a single, cohesive mobile responsive Theme.
The new site features font icons for improved page load speed; an improved, branded event calendar; and online forms for tour and charitable donation requests.
Thanks for a successful launch!
Nancy Croisier, CSW, Marketing Manager
The new website homepage loads in the top 15% tier of tested sites, with a 658 Kb page size – above Google's recommended 300 Kb maximum, but well below the 2015 industry average of ~1.95 Mb. This means the site works better for mobile visitors, and has an improved chance of conversions.