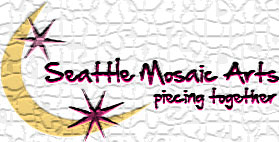 WordPress Development: Scott Marlow | Marketing by Marlow
Design: Kelly Jean Davis | Farm Girl Works
Technical Advising:  Randy Steiger | Conflare
Photography: Laura Joyce-Hubbard | Mother Goose Photography and Claire Barnett
Consulting: Karrie Kohlhaas | Thoughtshot Consulting
Claire Barnett pieces together business and art in her new business venture: Seattle Mosaic Arts.
Although Seattle Mosaic Arts provides memorial mosaics for grieving individuals and families, the Wallingford store's main purpose is to build community by teaching and promoting mosaic.
We wish Claire the best in her new venture, and hope you'll visit the new mosaic store at 1325 North 46th Street.