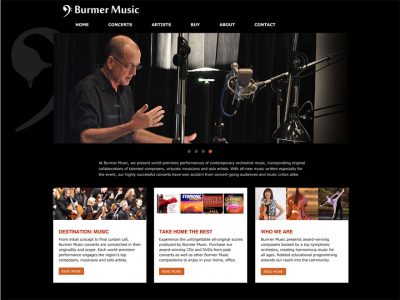 Team: Cipalla Communications, van den Berg Design, Scott Marlow
Glenna Burmer, M.D., Ph.D., is a physician and scientist – as well as a composer, musician, concert producer and author. A molecular pathologist, she is a founder of LifeSpan BioSciences, a Seattle healthcare company that is a world leader in the antibody industry.
As president of Burmer Music, LLC, she produces world-premiere concerts that showcase contemporary and melodic orchestral music, incorporating original collaborations of talented composers, musicians and solo artists. With new music written for each concert, Burmer Music has won acclaim from both concert-going audiences and music critics.
To help promote the performances and event announcements, and support Glenna's professional ambitions – we developed 2 custom, co-branded WordPress sites simultaneously. Bold colors and rich, custom photography highlight the dynamic events and services that Glenna orchestrates.
Performance Metrics
Performance
WordPress Site
Benchmark
Google Mobile Speed:
91
Google Desktop Speed
100
Pingdom
95
(faster than 94% of tested websites)
WebPageTest Speed Index
1,372
median = ~4,493
top 10% = <1,388
YSlow
84
average score = 70
Web Page Size
604 Kb
In 2017, average page size = ~2.4 Mb
median page size = ~1.9 Mb
Web Server Requests
26
< 40 – 60 recommended
The site is spectacular! Congratulations on a great job!
Glenna Burmer, founder, Burmer Music