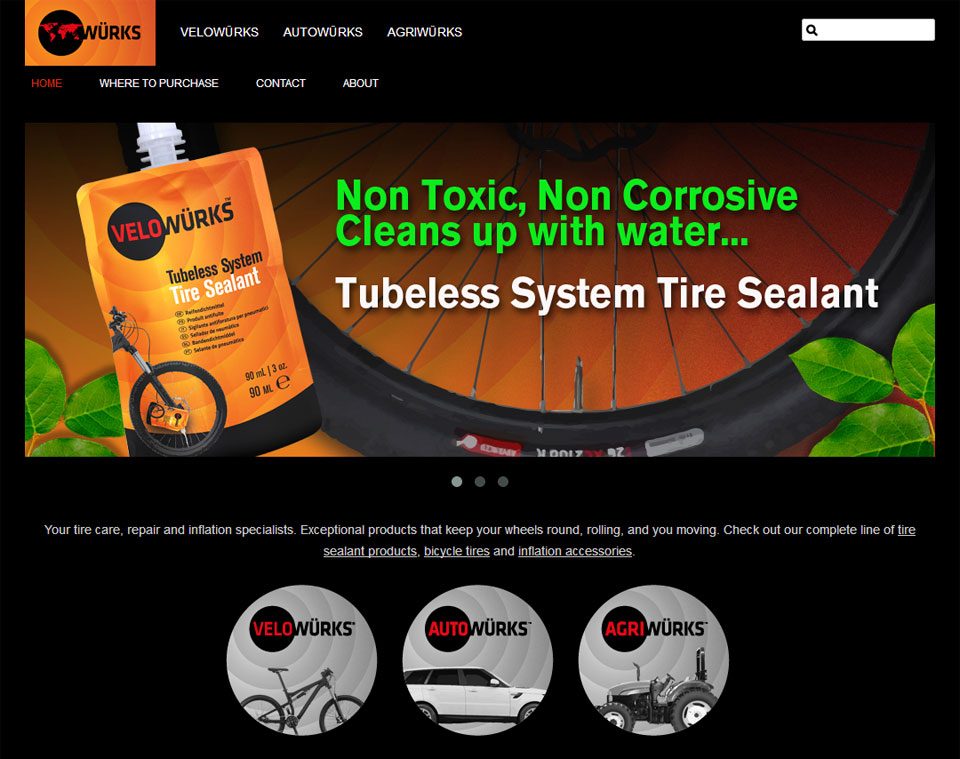 Client: Würks Global
Scope of Work
Branding
Content management
Front-End web development
Performance optimization
Security hardening
Visual design
Team: Gravity Communications, Scott Marlow
Solmark International needed an online solution to promote its tire sealants and other products for the automobile, bicycle and agricultural industries.
Working with WordPress MultiSite, a Content Management System was configured to allow them to update multiple domains thru one web-based dashboard.
The co-branded sites – wurksglobal.com, veluworks.com, autoworks.com and agriwurks.com – were built around a modern, dark theme to highlight rich photography. An online dealer map helps VeloWurks customers find retailers. A co-branded sitewide footer helps cross-promote products across distinct domains.
Performance Metrics
Performance
WordPress Site
Benchmark
Google Mobile Speed:
60
Google Desktop Speed
98
Pingdom
83
faster than 87% of tested sites
WebPageTest Speed Index
1,878
median = ~4,493
top 10% = <1,388
YSlow
77
average score = 70
Web Page Size
1.2 Mb
In 2017, average page size = ~2.4 Mb
median page size = ~1.9 Mb
Web Server Requests
40
< 40 – 60 recommended
We have worked with Scott on WordPress based websites for our clients as well as our own projects for years. His knowledge of the platform, solid communication skills and personal support (and more) make him a trusted and valued asset for us. I would highly recommend Scott to anyone wanting to create and launch a website on the WordPress platform.
Matt Karaus, owner, Gravity Communications