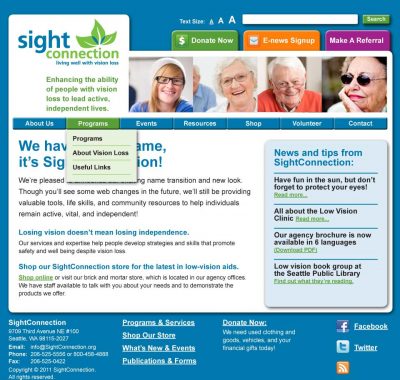 Graphic Design: David Owen Hastings
WordPress Theme Development: Scott Marlow
Living well with vision loss requires accessible websites. My latest WordPress project for SightConnection (formerly Community Services for the Blind) includes a high contrast design by David Owen Hastings, convenient font-resizing, as well as a text-only stylesheet.
The text-only stylesheet replaces a previous text-version of the website, which hurt search engine rankings by publishing duplicate content to the same domain.
Scott Marlow came to us upon a recommendation of our graphic designer, and we couldn't be more pleased with the work he did for us! Scott worked closely with us to not only develop our new website at SightConnection.org, but also to teach us all the inner workings. As a not-for-profit organization we are always concerned about costs, but under Scott's guidance the project came in on time and on budget. The launch went smoothly and we love our new website! We look forward to working with Scott on other projects as we implement our new brand and look. I highly recommend Scott to anyone looking to develop and implement a website.
June Mansfield, President/CEO
SightConnection