Western Wildlife Outreach (WWO) works with partners to provide science-based information to community groups about the ecology, biology, and behavior of grizzly bears, black bears, cougars, and gray wolves. By engaging communities in wildlife and habitat stewardship activities, WWO programs foster an appreciation for large carnivores' niche in maintaining ecosystem health — providing critical context to environmental recovery efforts happening throughout the Pacific Northwest.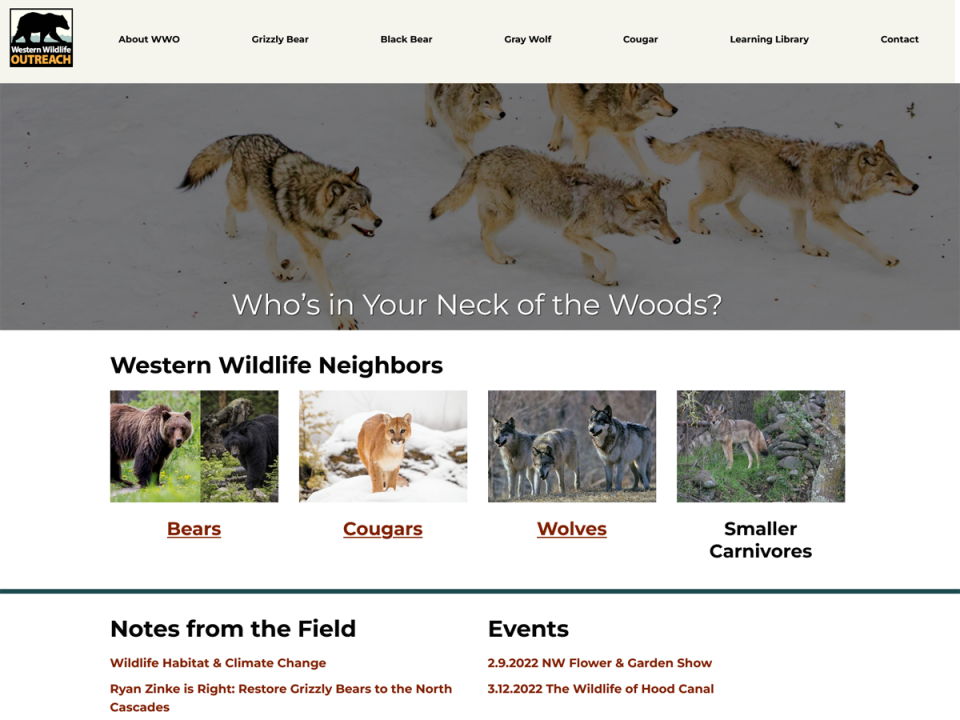 By fall 2021, WWO's old website was becoming endangered. Page load speed was sluggish, above 5 seconds. Volunteers and new staff could not easily add and update content. Compounded by a clunky user interface that was difficult to navigate, visitors were not engaging with the science-based content.
WWWWOD?
WWO found my nonprofit website marketing services thru 501 Commons. Soon, we embarked to completely rebuild their existing WordPress site, using the native Block Editor to provide a rich, intuitive editing interface, which showcases their rich wildlife photography.
Project objectives included:
To refresh and modernize the website based on WWO's existing brand identity;
To improve ease of use – content management, information architecture, readability, and site maintenance;
To improve the mobile responsiveness of the site layout for displays from phones to tablets to desktops – including a collapsible navigation menu on mobile;
To improve compliance with Web Content Accessibility Guidelines (WCAG) level AA – including keyboard-navigable navigation, skip-to-content links, semantic HTML, and high color contrast [> 4.5:1 and > 3.5:1 for large text];
To improve site security and performance.
Overall homepage size decreased 36% from 1.8 to 1.14 Mb, with another 36% decrease in web server requests – resulting in sub 2-3 second page load speeds.
Performance Analysis
Performance Metric
Old website (November 2021)
New Website (February 2022)
Google Lighthouse: Accessibility
90/100
98/100
Google Lighthouse: Best Practices
80/100
92/100
Google Lighthouse: Mobile Speed
74/100
94/100
Google Lighthouse: Desktop Speed
97/100
97/100
Google Lighthouse: Search Engine Optimization
83/100
98/100
WebPageTest Speed Index
1.595
2.029
Total Homepage File Size
1.8 Mb
( 1.3 Mb Images + 110 Kb Scripts + 36 Kb CSS + 12 Kb HTML)
1.14 Mb
(788 Kb Images + 241 Kb Scripts + 69 Kb CSS + 44 Kb Fonts + 22 Kb HTML)
Total Web Server Requests
67
(32 Images + 24 Scripts + 9 CSS + 1 HTML)
43
(11 Images + 17 Scripts + 11 CSS + 2 Fonts + 2 HTML)
Total Homepage Load Time
~2.4 seconds
~2 seconds
WebPage Test Speed Index: median = ~3.591; top 10% = <1.388
In 2021, the average page size = ~2.4 Mb and median page size = ~2.1 Mb.
Database-driven websites, like WordPress, are more performance optimized when server requests are < 40 – 60.
Web Design + Development Team
Visual Design: Erik Fadiman
WordPress Theme Development: Scott Marlow